Brisbane, Australia
August 22nd, 2005
The Tuhup coking coal project in central Kalimantan (Borneo) is not due to come into production until 2007, but management and investors now have the ability to tour the entire facility, as it will exist, using a "virtual environment" created by VizMAP.
VizMAP Pty Ltd was contracted by PT Asmin Koalindo Tuhup (AKT) to create a computer based visualisation of the complete mining facilities as planned to be when mining of the rich coking coal reserve in central Borneo is fully underway.
VizMAP used the TerraTools software from TerraSim Inc. (Pittsburgh, PA USA) to create the "virtual" 3D database. Supplemental 3D models of excavators, trucks, conveyors, bulldozers, barges and tugs, etc. were subcontracted. Landsat imagery provided the broad scale ground texture, whilst the SRTM (NASA Shuttle Radar Topographic Mission) data provided the bulk of the digital terrain modelling. Finer modelling, particularly of the actual mine site, was sourced directly from the mining plan and supplied in DXF.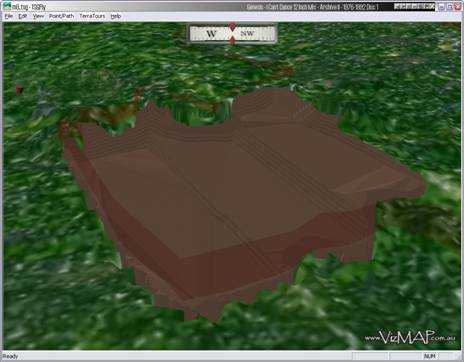 Apart from the coal deposit, where the interactive virtual 3D environment includes the excavator mining and initial transport of the coal, the project involves the construction and operation of a coal stockpiling facility a few kilometres from the mine site, then the yet to be constructed 130km haul road to a river stockpiling and coal barge loading facility.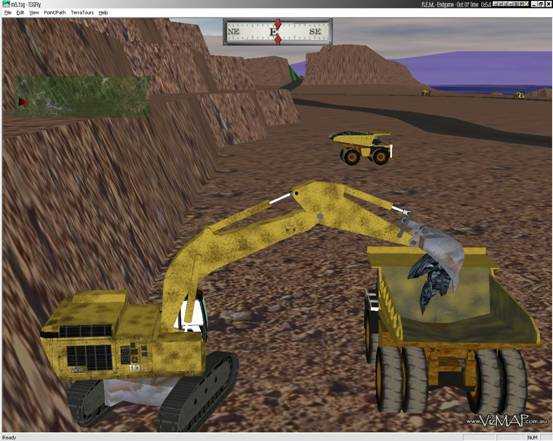 At the mine end, the virtual environment includes the dumping of the coal into the sorting and washing areas and then transport via ramped conveyors to the stockpiles. From the stockpiles, the observer can trace the progress of the coal being bulldozed via feeders to a low level conveyor which eventually loads the haul trucks in preparation for the long haul to the river.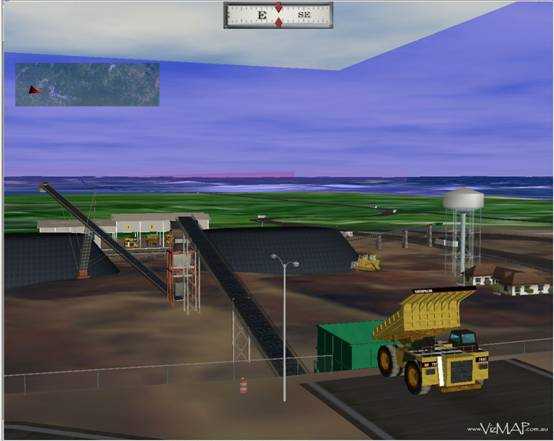 The haul road is able to be "driven" or "flown" for its full length to the river loading facility where the haul trucks dump the clean coal onto ramped conveyors, also feeding stockpiles. Here bulldozers are also seen to feed low level conveyors, which in turn, load the coal barges. These are finally guided by tugs downstream to the port for distribution of the resource.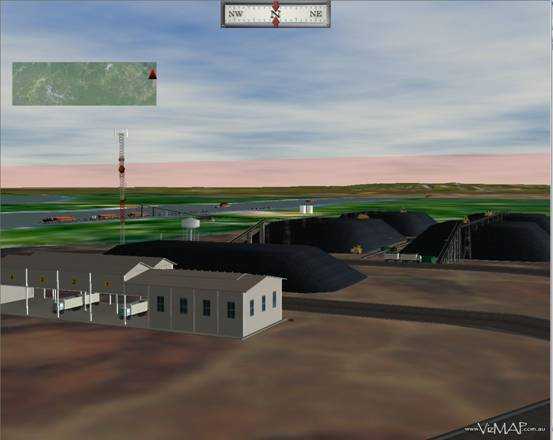 For higher resolution (full screen) images included in this document, or to learn more about the technical details of the Tuhup virtual environment, e-mail Graeme Brooke at VizMAP. To learn more about the Tuhup coking coal project, e-mail Dave Gibbs from AKT at dag97@bigpond.com.
---
About VizMAP: Drawing on over 25 years experience in Surveying, GIS, Remote Sensing and Photogrammetry, VizMAP operates a custom digital cartographic bureau service, specialising in the creation of stunning interactive, real-time, 3D geospatial databases and tailored digital mapping services.
For further information, contact Graeme Brooke on 0419 659 866 or by e-mail at VizMAP.