Rider: The data portrayed in the "Flash Maps" detailed below was accurate as of October, 2006. It may well now be out of date. To inquire about current data, please e-mail The Geological Survey of Queensland , Department of Natural Resources and Mines at

geological_info@dnrm.qld.gov.au

.



(Graeme Brooke, November 2014)



Brisbane, Australia
October 23rd, 2006
Earlier this year, VizMAP developed the "Advanced Mining Projects" interactive Flash map to cater to the needs of Queensland's State Government Department of Natural Resources Mines and Water (NRMW) to create an interactive graphical software tool to effectively display the current Advanced Mining Projects in Queensland (see Flash Maps, March 2006). Now in their new post-election livery as Queensland's Department of Mines and Energy, DME required some fundamental upgrades to the original application for distribution at the Mining 2006 conference to be held in Brisbane, 1-3 November, 2006.
Mining projects are completed and others come into being, so this was always seen as being a changing application. The original design of the Flash database allowed that updates could be made by NRMW (now DME) to the database without having to resort to the reprogramming of the interface by VizMAP. The "data" is read as the application opens and this data can be changed as often as DME require. Theoretically, the new updated interface will now last many years as the project's database (a simple text file) is updated by DME.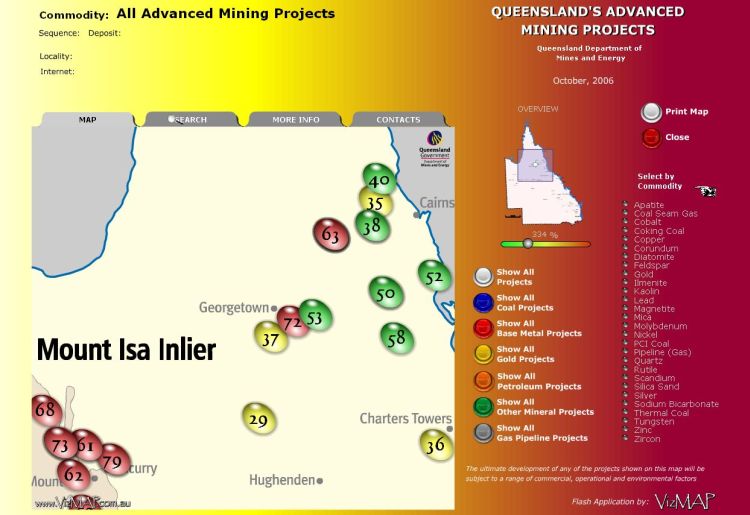 The updated VizMAP product, "Queensland's Advanced Mining Projects", adds two new "header" buttons to the interface: Petroleum Projects, and Pipelines. The new petroleum-specific projects are the Talinga and Argyle gas seam projects whilst the advanced Moranbah to Gladstone gas pipeline project has also been added to the Pipelines header button. The interactive list of individual commodities included in Queensland's advanced Projects has also been updated with Kaolin, Quartz, Tungsten, Molybdenum, Coal Seam Gas and the Pipeline being added and Iron being dropped.
Many advanced projects have been deleted from the list and many more have been added. The interface now displays the locations and details of 79 occurrences of the advanced metal, mineral, petroleum, coal mining and pipeline projects in Queensland.
This application represents the fourth "Flash Map" that VizMAP has produced for Queensland's DNRMW/DME and will be widely distributed on CD at the Mining 2006 conference at Brisbane's Hilton Hotel, 1-3 November 2006.
The Advanced Mining Projects application has been created as a user friendly tool to allow users to quickly determine where in Queensland the advanced mining projects are located. As well as being able to pan and zoom on a map of Queensland, the user can search on a name to quickly locate commodities and projects geographically. Once located, a simple click on the identified commodity connects the user directly to the project proponent's website.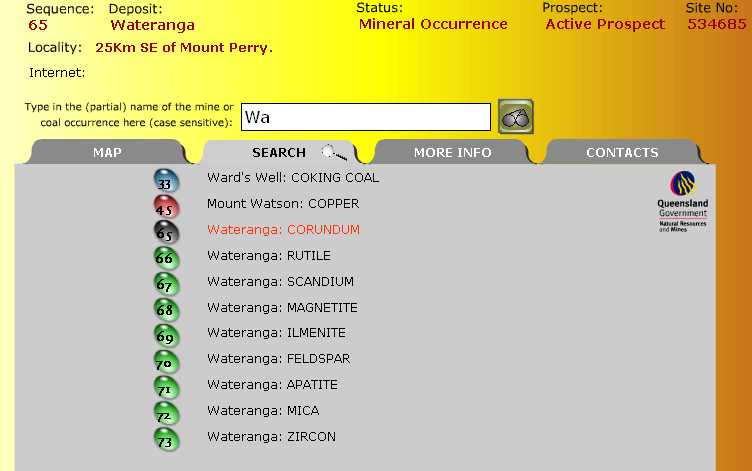 Since the initial beta release of the first Flash Map for NRMW back in March 2005, CD-ROM's containing one, two, three or four of VizMAP's Flash Maps have been revised and reprinted several times and presented to numerous country ambassadors, business leaders and visiting trade delegations, not to mention several thousand being distributed at various conferences around the globe.
The latest iteration of the multi-award winning product will soon be available at Queensland Government Trade and Investment Offices, Austrade and Invest Australia offices nationally and throughout the world.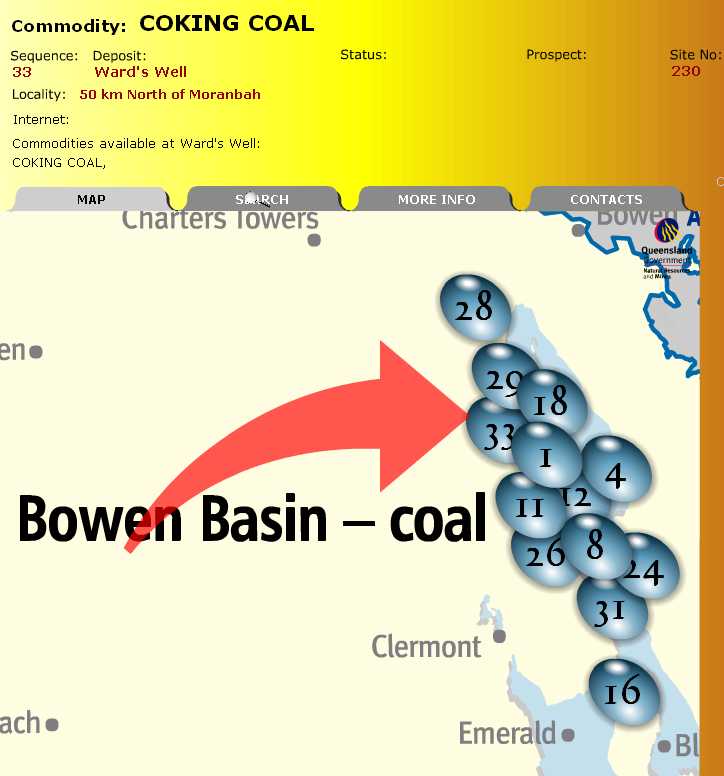 The new CD-ROM release will include updated databases, animation, and a greatly reduced application size, effectively enabling a "webbable" resource.
To this end, VizMAP has made each of the four Flash Maps freely available on the VizMAP website.
The "Commodities" Flash Map can be accessed at http://www.vizmap.com.au/NRM/QldCom_v5.4.swf.
The "Coal" Flash Map can be viewed interactively at http://www.vizmap.com.au/NRM/QldCoal_v5.4.swf.
The "Petroleum" Flash Map can be accessed at http://www.vizmap.com.au/NRM/QldPetroleum_v5.4.swf.
Finally, the new "Advanced Mining Projects" Flash Map can be accessed at http://www.vizmap.com.au/NRM/QldAdvMin_v6.1.swf.
To learn more about the technical details of VizMAP's Flash Maps, e-mail Graeme Brooke (VizMAP).
---
About VizMAP: Drawing on over 25 years experience in Surveying, GIS, Remote Sensing and Photogrammetry, VizMAP operates a custom digital cartographic bureau service, specialising in the creation of stunning interactive, real-time, 3D geospatial databases and tailored digital mapping services.
For further information, contact Graeme Brooke on 0419 659 866 or by e-mail here.