Brisbane, Australia
August 24th, 2005
The Nepal trek from Lukla to the Everest Base Camp is on the "to do" list of many adventurers. Now, VizMAP has brought it within the reach of many more having created a "virtual trek" that allows you to interactively walk, drive or fly the route on your computer.
VizMAP was engaged by GISJobs International to perform the task for their client Centacare. Centacare conducts adventure fundraising events to support its Gift of Time Appeal to support children with intellectual disabilities and their families. Centacare had proposed the trek as a fundraiser and wanted to show potential trekkers what they were in for.
VizMAP used the TerraTools software from TerraSim Inc. (Pittsburgh, PA USA) to create the "virtual" 3D database. Using Landsat satellite imagery and SRTM (NASA Shuttle Radar Topographic Mission) digital elevation modelling as the basis for the project, supplemental information such as the actual trek route and various placenames along the way were identified from the Internet.
The eventual 3D database was delivered with the free TSGFly viewing software from TerraSim Inc. allowing Centacare to freely duplicate and distribute the virtual trek to potential trekkers.
The following are "stills" from the interactive 3D database.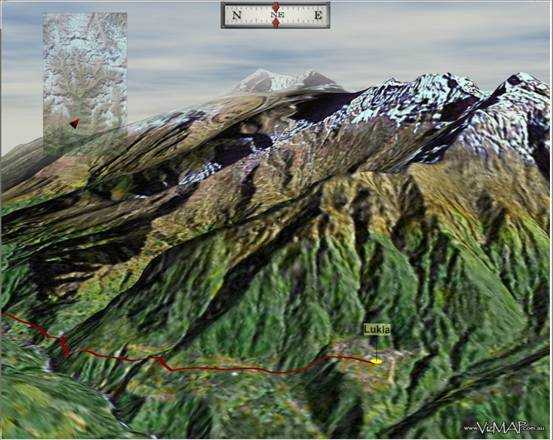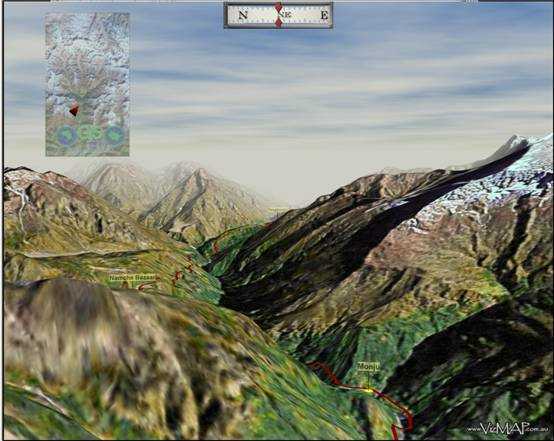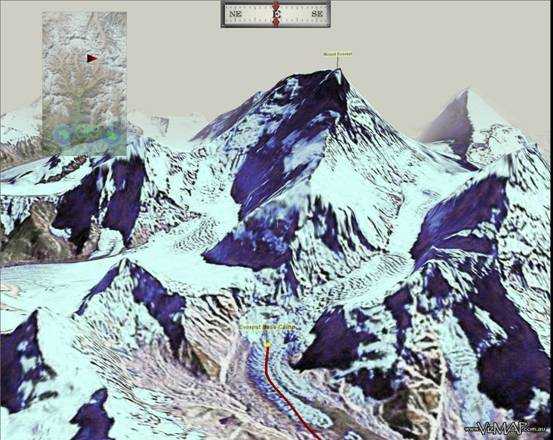 For higher resolution (full screen) images included in this document, or to learn more about the technical details of the Everest Base Camp trek virtual environment, e-mail Graeme Brooke at VizMAP. To learn more about GISJobs International, e-mail Dean Howell from GISJobs at dmhowell@gisjobs.com.au.
---
About VizMAP: Drawing on over 25 years experience in Surveying, GIS, Remote Sensing and Photogrammetry, VizMAP operates a custom digital cartographic bureau service, specialising in the creation of stunning interactive, real-time, 3D geospatial databases and tailored digital mapping services.
For further information, contact Graeme Brooke on 0419 659 866 or by e-mail at VizMAP.